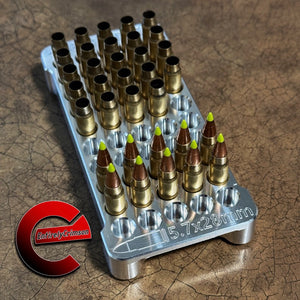 Solid billet aluminum reloading tray to perfectly hold 50 pieces of 5.7x28mm brass cases. Spaced 0.75" center to center. 


Features handles one each end, recessed sides for easy gripping and handling, four standoff feet on the bottom, pass thru holes for easy cleaning and primer checking, 100% chamfered edges, and milled engraving. Approximate size 5" x 2.5" x 0.75"


Get them while you can, a limited quantity will be made. 
No ammo or components are included, only an empty reloading tray. 
CNC made in the USA from billet 6061 aluminum.   Raw finish is unpolished and straight off the machine (will have machining tool marks).